Advent
November 29, 2019
T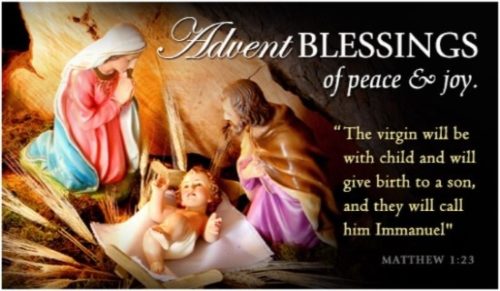 he Advent season lasts for four Sundays. It begins on the fourth Sunday before Christmas, or the nearest Sunday to November 30. Advent ends on Christmas Eve and thus is not considered part of the Christmas season. The Advent celebration is both a commemoration of Christ's first coming and an anticipation of His second coming.
One of the most common Advent traditions is the evergreen wreath with four coloured candles surrounding a white one in the middle. On or before the first Sunday of Advent, this wreath is placed in our churches. The four outer candles represent the four weeks of Advent. Three candles are purple and one is rose. The purple candles, in particular, symbolize the prayer, penance, and preparatory sacrifices and good works undertaken at this time. The rose candle is lit on the third Sunday, Gaudete Sunday, when the priest also wears rose vestments at Mass; Gaudete Sunday is the Sunday of rejoicing, because the faithful have arrived at the midpoint of Advent, when their preparation is now half over and they are close to Christmas. The progressive lighting of the candles symbolizes the expectation and hope surrounding our Lord's first coming into the world and the anticipation of His second coming to judge the living and the dead.
The white candle, placed in the middle of the wreath, represents Christ and is lit on Christmas Eve.
Share post



Follow us   



Information, Slideshow