Some thoughts on The Easter Triduum
April 9, 2020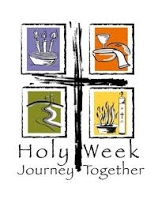 Holy Thursday, Good Friday and Holy Saturday are the three holiest most solemn days in the Liturgical /Church year.
This year it will be very different as we will have to celebrate in small family groups or alone in our own homes. Thanks to technology we will be able to watch ceremonies in our own diocese or even join with the pope in Rome and participate too, though remotely. With this in mind let's prepare to commemorate Jesus' Passion, Death and Resurrection in new, though still meaningful, ways this year. I have made a wreath of palm for my door which I placed on Sunday and will decorate with a cross on Friday and with Easter ribbons on Sunday. It's only a small gesture but a sign that Holy week can still be celebrated in these difficult days for all of us. In the Jewish tradition at Passover the children ask why the day is special, and the head of the household tells them the story of the first Passover, when God rescued his people and helped Moses to lead them to freedom in the Promised Land. This week parents can share the 'story' of God's great love for us still and Jesus' sacrifice for us.

On Holy Thursday we celebrate the Mass of the Last Supper where we remember Jesus' last celebration of the Passover feast with his disciples, where he washed their feet asked them to 'love one another as I have loved you', Jesus blessed and broke bread and he blessed and shared a chalice of wine, which he said were his body and blood, which would be shared and poured out for many; and for them and all of us to continue to 'do this in memory of me'. Every mass celebrated since recalls the mystery of Jesus' Eucharistic gift of himself to us.
After supper Jesus went to a garden on the Mount of Olives to pray. His disciples went too. On the way he told them that Scripture said "I will strike the shepherd and the flock will be scattered". Peter was adamant, "Though all lose faith in you, I will never lose faith". Jesus said, "before the cock crows, you will have disowned me three times".
Jesus was sorrowful and afraid of what he was facing the next day and he prayed hard to be strong enough to do God's will. (We remember Jesus suffering like this in the sorrowful mystery of the rosary –the agony in the garden). He asked Peter, James and John to wait with him.
Jesus found his friends asleep even though he asked them to keep watch, "the spirit is willing but the flesh is weak". It's hard to do what's right all the time even when we really want to. We need God's help. Jesus knew this which is why he devoted time every day to prayer, especially before important events or decisions. Jesus was Son of God but he was also human, and all human beings fear suffering and death. Jesus was like us in all things but sin.
Judas betrayed Jesus and the authorities came and arrested him. They hated him because he said he was Son of God and they thought this was blasphemy, a crime against God. They chose to ignore all that he had taught and all the good he did for people. The apostles ran away, afraid –the flock was scattered as Jesus had said.
Peter followed but stayed in the shadows. When people noticed him and recognised him as Jesus' friend, he denied it. He said he didn't know Jesus 3 times. The cock crew – Jesus was right. Peter was ashamed, because of his fear he had disowned his friend and teacher whom he loved. Peter was full of remorse but he was powerless to help Jesus.
On Good Friday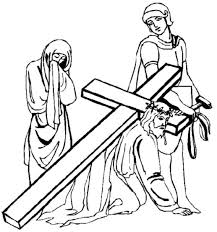 we remember the suffering and death of Jesus- his Passion. We fast and we abstain from eating meat in honour of Jesus sacrifice for us.
The Stations of the Cross commemorate the last journey of Jesus from Jerusalem to Calvary and his death on the cross. These stations are stopping places where we think about the events in Jesus passion, his suffering crucifixion and death on the cross. We pray at each station as we journey with Jesus and remember that Friday long ago. People have prayed these stations since the earliest days of the church and many would go to Jerusalem on pilgrimage to walk in the footsteps of Jesus.
The Stations as we know them today date from the 15th century, when communities far from Jerusalem set up images to remember the events of Good Friday, for those who could not travel to the Holy Land.
At each station we pray: We adore you, O Christ, and we bless you because by your holy cross you have redeemed the world. We say an Our Father, a Hail Mary and a Glory be …
1st Station – Jesus is condemned to death, though he is innocent and Pilate knows this. Pilate is bullied into condemning Jesus by the Jewish authorities who say he's no friend of Caesar if he lets Jesus go free. He's worried he will lose his position. Today too there are innocent victims of other people's abuse of power and there are those who fail to stand their ground for what they know to be right.
2nd Station- Jesus carries his cross. This was not usually done but it was a way of humiliating Jesus further and also set an example for all the people. Nowadays we can be intimidated by the threat of violence from those with power over us. So too are there many people who have to carry heavy burdens and worries.
3rd station- Jesus falls the first time. Under the weight of the crosses of our fears and problems we often stumble and fall too.
At the 4th, 5th and 6th Stations Jesus meets people who help him.
We can only imagine how hard all this was for Mary his mother but she pushed through the crowd to get to her son. Surely seeing his mother's love was a comfort to Jesus. Supporting people we love in difficult times is important.
Simon of Cyrene helps Jesus to carry the cross. He didn't know Jesus, he was just in the wrong place at the wrong time but he helped nonetheless, he shared the burden. We are asked to help others too even if sometimes we'd rather not, even if it is difficult.
Veronica wipes Jesus' face. She was brave and stepped out of the crowd. Her compassion outweighed her fear of the soldiers. She wiped the blood and sweat from Jesus face with her veil. Can we step out of the crowd to do what's needed to help others, to do what's right?
7th station- Jesus falls again. The cross was heavy and he was getting tired. We struggle too but like Jesus we get up again.
8th Station Jesus comforts the women of Jerusalem. The women are sad to see a good man suffering, it's so unfair. Jesus tells them not to weep for him because soon they will have their own troubles. Jesus doesn't want anyone to suffer.
9th station- Jesus falls a third time .Pain, suffering and illness, weigh us down, just as the cross weighed heavy on Jesus.  We have a God who suffered for us and like us. He understands. We bring our pain to him in prayer. He is with us.
10th Station- Jesus is stripped of his clothes, 11th Station – Jesus is nailed to the cross, 12th station – Jesus dies on the cross. These stations are hard to look at. Jesus is hurt and alone. His clothes are taken. The nails pierce his skin. The wind is cold as he struggles to breathe. He dies on the cross. All people die. Jesus shared this with us even though few people suffer like he did.
As he was dying Jesus did something extraordinary, he asked God to forgive his tormentors, he remembered his mother and his friend and asked them to take care of each other. Mary still watches over all of us like a mother. Jesus promised the good thief that he would be with Jesus in paradise. Jesus' loving heart is big enough for everyone.
13th Station -Jesus is taken down from the cross, 14th station -Jesus is laid in the tomb. It was a merciless unnecessary death. There is overwhelming sadness and tears. We see Mary, Jesus' mother, John and Mary Magdalene; what would they do now? Was it all over? Where would we be without Jesus?
On Good Friday Jesus died on the cross and was laid in the tomb. The hope of many died with him.  It is the most solemn day in church year. We mourn the death of Jesus and we reflect on his sacrifice. The altar is bare. The tabernacle is empty. Our hearts are sad and in the tomb with Jesus. There is no celebration of mass on Good Friday. We gather instead for the veneration of the cross. We listen to the gospel account of Jesus' passion and death and remember his suffering and sacrifice. We venerate/ Kiss the cross. "Behold the wood of the cross on which hung our salvation", the priest says. We pray for the needs of the whole world. We receive Holy Communion that was consecrated on Holy Thursday. We leave in silence and sadness. This year because of the need to stay home and social distance from each other we cannot venerate the cross in the usual way but if you have a crucifix at home you can light a candle and pray in silence with the cross for a while. Children can draw or colour a picture of a cross and say 'Thank you Jesus'. We can pray at this time for a suffering world and that our faith will sustain us in these days of isolation.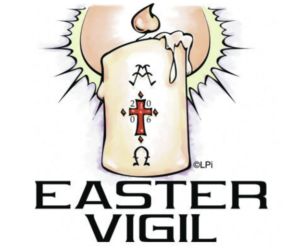 On  Holy Saturday we usually celebrate Easter Vigil – the first Mass of Easter. We gather after sunset and light the Paschal flame- the Easter fire. The darkness of the tomb is overcome and the light of the Risen Christ shines in the world again. We light the paschal candle and our own candles and we all share in the light of the Resurrection. In the Liturgy of the Word we hear of all the times throughout the ages that God has helped his people and kept his promises to them. We call this salvation history. There is great joy in our hearts and in the Church at Easter. Jesus is Risen, as he said he would. Sin and death have no power anymore. We pray Alleluia and give praise to God.
St Paul puts it best in his letter to the Romans, as to the reason for our Easter joy:
"When we were baptised in Christ Jesus we were baptised in his death, in other words we went into the tomb with him and joined him in death, so that as Christ was raised from the dead by the Father's glory, we too might live a new life….. death has no more power over Him. When he died, he died once for all to sin, so his life now is life with God; and in that way you too must consider yourself to be dead to sin, but alive for God in Christ Jesus."
At the Easter vigil, we joyfully renew our baptismal promises and often there is a person baptised at this ceremony. Such is our Easter joy that the season of Easter continues for the next 6 weeks.
This year perhaps we could light a candle after sunset on Holy Saturday and place it safely in a prominent place at home, or in our window like the Irish Christmas Eve tradition, to remind us that Christ is Risen and we are Easter people. We are still God's people, we are still a community of Faith and we still have cause for Joy and Hope. Wishing everyone a Blessed and Happy Easter.
Share post



Follow us   



Information